Sewing Classes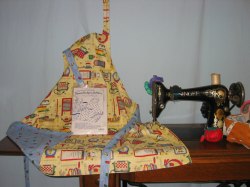 The Sewing Basket offers a wide variety of sewing classes. There are monthly Block of the Month classes for quilting. There are weekly sewing classes for girls 9 years and older. There are special one day classes for exciting and cute projects such as tote bags, table runners, holiday decorations, home decor items, skirts, scrunchies, pillowcases, and more!
We provide sewing machines and other tools, so all you have to do is come prepared to have fun and learn along the way! We have group classes and private lessons.
One of my favorite things about sewing class is being able to make fun projects that I will use and enjoy. My favorite project was the skirt. It was so easy and it doesn't look home-made. I love wearing it. Another one of my favorite things about sewing class is being able to sew each week. It is very relaxing for me to come to class and be able to work on my project.

-Laurel
Bring Your Sewing Machine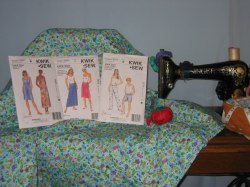 If you have a sewing machine, but just do not know how to use it, we have special 2 hour classes that will allow you to bring your machine here and if you have the manual, we can figure it out together. We teach safety, how to clean and maintain your machine, how to choose the best needles for each project, and how to use the multitudes of presser feet that are available for your machine.
We teach rotary cutting, which is a technique that revolutionized the quilting industry. Cut your fabric quickly and accurately with the help of a rotary cutter, precise rulers, a specially designed mat with a grid for accurate layout. It sure beats scissors!
Sewing is fun! I have enjoyed sewing class for many reasons. The number one reason is that I think I do well in it. Another reason is that I enjoy my teacher because she is patient with me when I don't understand something. In addition, I like making clothes for myself, for I can make them the length that I like. Over all my other classes, sewing is my favorite.

Christina
We also teach basic garment construction, how to read a pattern, how to select the appropriate fabric, how to layout and cut your fabric with the pattern, how to mark it, sewing accurate seams, and finishing the seam allowances.
It has been a great joy teaching children and teens ages 8 to 18 in weekly classes. They learn hand embroidery, cross-stitching, how to use a sewing machine safely, how to read a pattern, how to lay out a pattern, how to cut efficiently and neatly, and how to finish garments and craft items that will be useful and beautiful. Projects include doll clothes, pillow cases, laundry bags, potholders, aprons, scrunchies, scarves, pillows, mini-quilts, and their very own clothes.
I've really enjoyed this year. I loved the hair tie, the scrunchies, and the pencil case. But most of all, the doll clothes! They were so much fun! The homework was even fun! The clothes we made for ourselves are simply adorable! I like being able to see you once a week. I am glad that you threw in the challenge of trying to memorize Psalm 1 and Psalm 115. I'm surprised at how well I know Psalm 115 now! Oh! I just remembered, the winter hat, mittens, and scarf! I love them, too!

-Stefanie
They have learned how to appliqué, how to use fusible interfacing, how to overcast fabric raw edges to prevent fraying, and how to "press as you go" to insure accuracy and neatness. They have also learned how to make the most of the various types of presser feet for the sewing machines to achieve the best results.
Come join the fun!